Hi there. Assalamualaikum~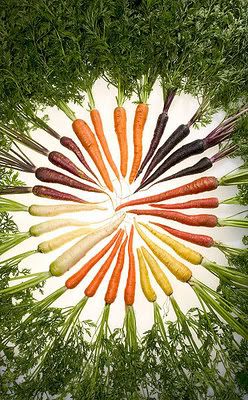 Oh, here we are again. In the same site, the same person typing the entries, but with different mood. I'm in the mood of eating, actually. But annoyed with some horrible orange carrots in my food. Urgh! How much I hate carrots, for no reason at all.
Weirdo
. But I do eat the white carrot, yuck for the orange carrot. I dislike the color, and the taste.
I know this orange carrots do have many advantages but I'd prefer the white carrots for it taste and color.
They said that the orange carrots do have one thing that the white carrots doesn't have, beta carotene that is good for the skin and our eyes. No wonder my eyes can't look clearly, I am the person who can't see from afar. Pity me.
These carrots has some variety in colors. There are white, orange, yellow, purple, maroon and black. Maybe there are several colors that I didn't know.The black one? You can try ask uncle
Google
. I've found it just now.
There are also several events that celebrate these carrots, which I, myself doesn't get it why they celebrate it. You can see it
HERE
.
Okay folks, thats all that I want to share today.
Till the next entry. Have a nice day, readers!
Sincerely,